Interview Gold Review - Is It Right For Me?
Short review of our InterviewGold online training system to help you decide if its right for you.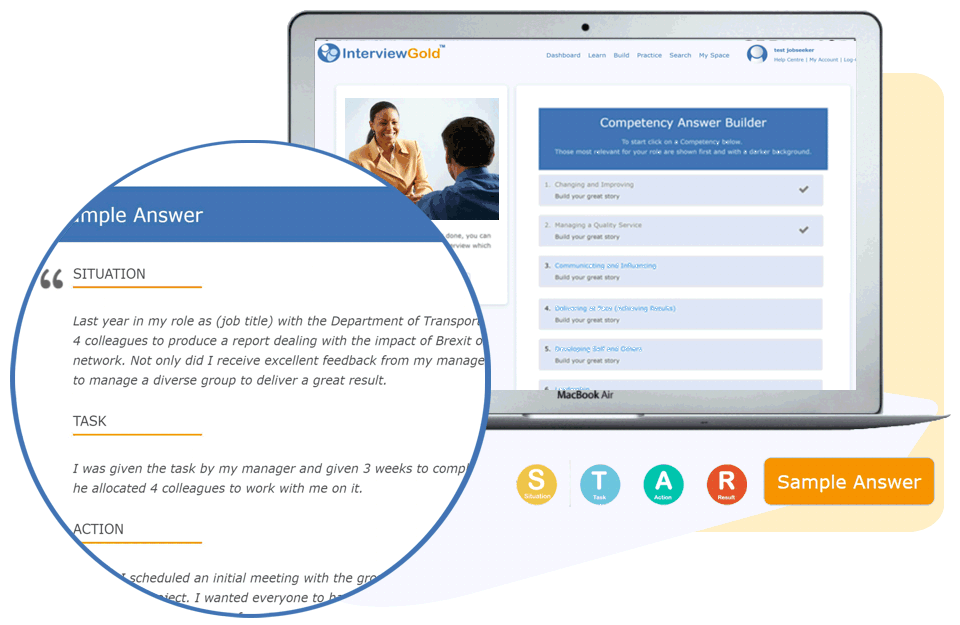 Let me give you a short history of the InterviewGold system and where it came from.
We created Anson Reed in 2006 with a focus on helping candidates perform well in interviews and subsequently get jobs.
At the same time, we developed InterviewGold as a tool to help our coaching clients, a resource they could have at their fingertips 24 hours a day.
It worked really well, clients found it informative and useful and so we developed it further and launched it to the wider market.
It has been changed beyond recognition since, with the last redesign last year. We are constantly adding in new content, be it questions or sample answers and we update it to reflect current recruitment. For example, when the Civil Service started using success profiles, we rewrote that section of the training fully.
Who would find InterviewGold Useful?
It can work for anyone really.
As we know making that good first impression during an interview is vital for any potential job candidate, which is why it is so important that candidates can go into any type of job interview they face with confidence.
Very often, we know that candidates can suffer from anxiety and nervousness, which causes them to struggle during the interviewing process, but this can be overcome through interview training.
The InterviewGold system has been designed to work for any candidate with an interview coming up.
It covers over 20 sectors or work areas such as accounting, finance, customer services, government and even nursing, teaching and medical.
When you log in your select your sector and then within that, choose a level or role and it will show you content which is relevant to that level.
We have had feedback that the questions in the mock interviews show an accuracy of about 80% in terms of being asked subsequently in the actual interview.
Just to say, it does have a focus more on professional, corporate based roles so it would not work so well for say mechanical jobs, or service roles such as in catering or delivery for example.
Why would a candidate join InterviewGold?
Well especially today, irrespective of the number of vacancies, there is still huge competition for the really desirable jobs. All companies are keen to have quality employees however it can be a struggle to get through and get the offer. To get the job you want, you must pass through the interview process and this requires a skill.
Luckily, it's a skill that can be learned and this is how InterviewGold helps.
We get clients coming for a range of reasons but typically, they might be struggling with competency-based interviews. These can be very complex and difficult to answer and the system has some great features to help with that.
We also get clients who maybe are a little rusty with their skills or don't realise the process has changed. It is a good refresher course as such.
For others who have just not been passing interviews or even getting through with the application it can be very useful.
Understanding the importance of interview practice and preparation in any form not just with InterviewGold, will create a huge difference between getting rejected or getting selected a job offer.
What are the benefits of training with the InterviewGold system?
We know that proper preparation is vital. Interview training in whatever form is a powerful technique that focuses boosting a candidate's ability to communicate and present themselves at interview.
It is perfectly normal for candidates to feel anxious when they go to an all-important job interview, but overcoming these anxieties is the secret to success and is where the InterviewGold system can help.
By being prepared and with answers fresh and ready it can take the anxiety out of the interview.
Within InterviewGold, one of the core modules is called Essential Learning which is a comprehensive course covering all aspects of interviews, how to properly dress, how to present yourself, how to be a good story-teller, and how to provide good relevant examples when needed.
The system covers competency and behavioral interviews in detail and the competency answer builder tool is a fantastic way to build up your responses.
We get very good feedback from and often clients tell us that their interviews were much more pleasant and enjoyable than expected. They say they were able to present themselves with confidence to prospective employers, which gives them a higher percentage rate of getting that job offer.
What should candidates be aware of in the current job market?
Well post covid, the interviewing process has become harder for all potential job candidates. Prospective employers are able to pick and choose through the best candidates and as a result, each applicant has to be on the top of their game. Even now, one small mistake could cost them a chance at becoming employed, which is why interview training can be so effective.
Even just using the free InterviewGold blog, job applicants can focus on learning the most commonly asked questions, which will include the most difficult questions, asked during an interview.
Questions exploring furlough or working experiences during lockdown for example may be asked. Preparing for these in advance and knowing how you would answer them is essential. Rehearsing before the interview is always a great way to train and will enable a polished and smooth performance.
Any final tips to leave
We suggest preparing as much as possible. There are tons of free videos on YouTube, great blogs, plenty of resources to help so there is no excuse. And of course you can learn more about InterviewGold below.